Tony Lama Cushion Comfort, 3R And TLX Construction?
Tony Lama has been making quality boots since 1911. At Boyer's BootnShoe, We sell and repair Tony Lama boots.
We understand the Tony Lama boot construction inside and out.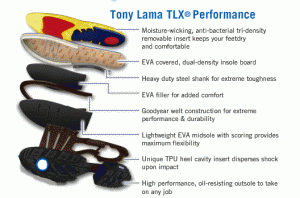 Let me give the easy and quick answer first then I'll go in to more detail.
Are Tony Lama American Made
Tony Lama Cushion Comfort series are an American made version of Tony Lama's classic boot but with an advanced cushion insole system added. Tony Lama TLX and Tony Lama 3R boots are made in Mexico and in China. They have a high-tech comfort system similar to technology found in running shoes. All of these have their purpose and proper use. I'll explain each in more detail. But, the short answer to your direct question is, if you want a Tony Lama that is American made you have two choices. The classic boot with 3/4 welt that features full leather insoles. Or, the Tony Lama Cushion Comfort series with full welt and cushion insole system.
Tony Lama Cushion Comfort System
The Tony Lama Cushion Comfort boot has a layered comfort system. The top layer next to your foot is a leather insole. This gives durability, breathability, and moisture absorption. Next is the New Poron ProZorb cushion urethane for extra breathability, Long term comfort and Moisture management. All on top of a triple density board, spring steel shank spring, and the final outsole of leather or rubber. These boots do not feature an orthotic arch. The classic goodyear welt construction provides excellent arch support making an orthtoic arch unnecessary. At Boyer's BootnShoe, we find the Tony Lama American made classic style boots are the most durable and repairable. We have repaired many Tony Lama boots with new soles over and over again. They are old friends you can keep a long time.
TLX and 3R Construction 
Tony Lama TLX and 3R are very comfortable and durable boots, but are not American made. Their comfort system is much more cushioning than the classic boots. The trade off is the repair-ability of the boots. They are not designed to have the soles replaced. However our repair department has found ways to repair them. New heels and new soles have been successfully replaced with non-original materials. You can find more information about the technology on the Tony Lamasite.

Slim, The Boot Guy