Can You Repair An Uncomfortable Heel Counter In Boot?
Scott asks: The inside heel of my boot is starting to roll up and create a ridge in the center of the heel counter inside my boot making it very uncomfortable. Is this a repairable problem? These are my favorite boots and are quite expensive to replace.
Thanks for the question Scott. Yes, at Boyer's BootNShoe, we can make your boot comfortable again. It sounds like the heel counter or heel back in your boot has worn a hole or has come un-stitched and rolled down. ( A heel counter/heel back is the inside back lining of a boot that snugs up against your heel). We see this problem a lot and we can successfully repair it. It can be caused by a boot that is too loose in the heel and the slippage has worn a hole in the counter. Or it can be simply a heel counter that is made of a material that wears out easily, like cloth or cambrelle, instead of a longer wearing material like a leather heel counter. We refer to putting in new heel counters as New Backs.
(if the heel counter is hurting you because your boot is stiff or new, click >>HERE<< to learn how to fix that problem)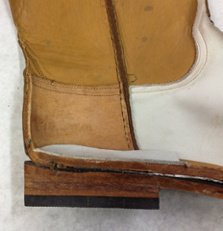 How to fix a worn heel counter with new leather heel backs
The first step is to trim out any rolled up leather from the old heel counter. Any lumps can be felt through the new leather, so it is important to either remove or glue down any old material that is not laying flat.
The next step is to make a paper pattern of the inside of the heel that matches the shape of the old heel counter. We then a select a piece of leather to insert in the back. We will chose a heavy piece of leather if the boots are too loose in the heel or a lighter piece of leather if not.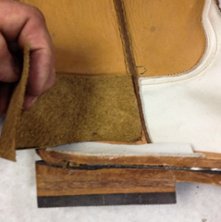 (Cutaway boot example. Sewing in a new leather heel lining or heel counter. Note: Boot is not cut open to install backs)
Once the new leather is cut to shape we will "Skive" the leather. Skiving is slicing the leather edge with a very sharp knife to feather the thickness to a thinner edge. Skiving takes a lot of practice to do quickly and professionally. Feathering the edges by skiving insures that a thick rough edge won't rub blisters on your heel. 
The new leather back and the inside of the boot are both glued with a contact all-purpose cement and left to dry. Next a second layer of glue is added to both pieces. Now while they are both still wet with glue, the new back in slipped, very carefully, into the proper position in the boot. The leather is left to dry in position. Once dry, the leather is pounded into shape on a shoe jack to prepare it for sewing and to mold it to the boot shape.
Last of all the leather is sewn in place following the original stitches around the heel counter.
>> If you'd like to send your boots to us to be repaired, click here for more information<<

Slim, The Boot Guy