What Kind Of Polish Should I Use?
It can be a little intimidating these days with the wide variety of products used to upkeep your shoes or boots. Using shoe polish is a great way to keep dress shoes or boots looking nice. However, there are so many different types of polishes available it can be hard to know which kind to use. A few types of polish are: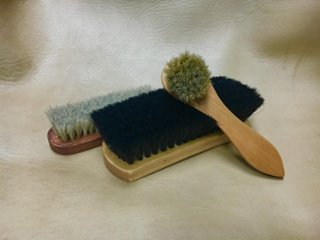 The kind of polish you need will depend on the material, color and type of finish on the shoe you are using it on.
*Note none of these polishes should be used on suede or nubuck leather.*
Wax Polish
When is it best to use a wax polish?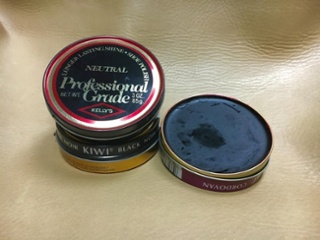 First of all a wax polish is a hard polish that comes in a solid form. Wax polish contains harder waxes like carnauba wax. Because it is harder it requires more effort to get it to shine, but the shine then lasts much longer.
This is the kind of polish that a classic "Shine Man" uses and you can see him "popping the rag". ( A side note, the term "Just popping the rag" refers to someone putting on a lot of show to not much real effect.) A shine cloth or brush is used to buff the polish to a shine. Spot remover can be used before the shine in order to clean the boot a bit. When the polish is applied a brisk brushing warms the surface of the leather and brings the polish to a high shine. 
This is also what is used in military circles a lot of the time. Kelly's polish is what is used for "Spit" shining. (A topic we will cover in another post.) 
Wax Polish is ideal for leathers with a harder, shiny finish. 
When is it best to use cream polish?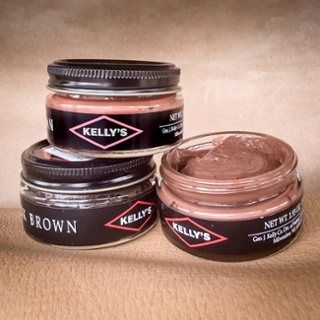 A cream polish is a soft polish that comes in a large variety of different colors. Like the wax polish a buffing  brush or cloth can be used to buff it to a higher shine. Cream Polishes contain more leather condioners, such as lanolin. 
Cream polish works excellent on softer leathers or with a lot of texture. This is because it is easier for a cream polish to get into all those hard to reach nooks and crannies than it is for a more solid, wax based polish. 
When you need a rare color such as green or a blue color; a cream polish should be your go to as it comes in a diverse array of colors. This will cover scuffs in a shoe best by adding a bit more color to the worn areas. Another instance you might use it is if the shoe is a very light color, for example: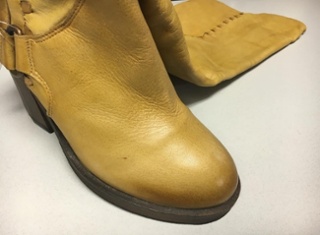 For this light color and delicate, soft leather you would use a neutral (or uncolored) cream polish to avoid darkening the boot.
When is it best to use a instant shine sponge?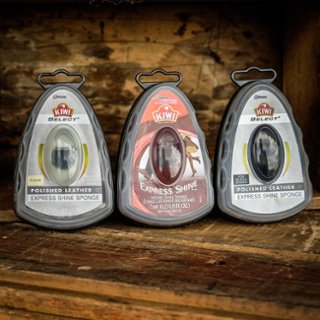 Like the name implies this type of polish is great if you're about to go out and need to shine your shoes up quickly. It does a wonderful, quick job and requires no extra buffing for a nice shine. The downside is that it doesn't last as long as some of the other options on our list. The product shown comes in three colors; Neutral, Black, and Brown.
When is it best to use a spray polish?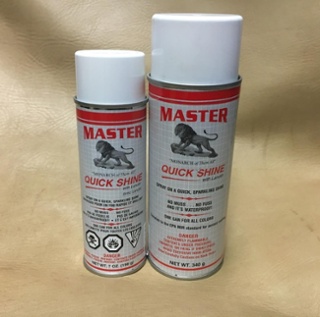 A spray polish is a quick, no hassle way to shine a shoe up. It can be used over a cream or wax polish to make it last longer. It will be longer lasting than a Quick Shine Sponge. It is also neutral and good for any color. It doesn't cover scuffs however so it's best used simply for shine. 
When not to use a polish
     -If your shoe is suede or nubuck, you should never use a polish. Instead a suede brush or suede cleaner to clean out the material that may have lost some of it's nap 
     -If you have a distressed leather and you want to keep that look, a conditioner might be best
     -If your shoe is made of an oil tan leather a quick condition with a gentle conditioner such as apple leather will rejuvenate your shoe or boot while helping preserve the leather
     -Man-made materials like vinyl do not respond well to polish. If you need to touch up scuffs on man-made materials try Angelous Acrylic Colors.
     -A good rule of thumb: If the original finish on your footwear is dull or matte, and you want keep the original look, don't use polish use a conditioner.  

Slim, The Boot Guy